Testimonials
We pride ourselves on the good relationships we enjoy with our clients and the media.
What our clients say
From the moment we met Melissa Davis and her team at MD Communications we knew that there was synergy between their approach to building long-term partnering relationships and that of Paris Smith. It was and is clear that we share the same values including in particular integrity, professionalism and trust. The strategic advice and guidance to our marketing plans including digital and PR activity has been and is first rate. They have ensured that they understand our purpose, vision and culture prior to making recommendations as to activities and structured plans. Their knowledge and the extent of their networks always impresses. Melissa and her team are outstandingly reliable, accessible, responsive and very enjoyable to work with.
We have worked highly successfully with MD Communications… Melissa's ideas, boundless energy and considerable insights into the fast-changing legal world are invaluable to us.
Melissa and her team have been extraordinary in their work with, and contribution to the IBA and its members. By providing pro bono support for our groundbreaking project work, doing more to connect legal professionals all over the world and supporting our mission to share information and drive improvements in the law in an energetic and impactful way, they have been instrumental in affecting positive change.
The team at MD Communications have been fantastic and worked with us on our PR strategy. They feel like part of our organisation. The team understands client media coverage and have fantastic experience in legal media and public affairs. We find the whole team to be knowledgeable, professional and a pleasure to work with.  I have no hesitation in recommending MD Communications.
MD Communications' support for our work promoting diversity, inclusion, and culture in the legal sector has been invaluable. We so appreciate their partnership, expertise, and passion for their work.
The team at MD Communications bring strategic insight and gravitas. They command real confidence with fee earners, clients and the media alike. We've been able to rely on them in fast-moving situations, and they've managed and delivered excellent results with national and international media – for us and for our clients in high-profile cases.
Alliott Group has been partnering for some years now with MD Communications.  At a Group level, Melissa and her colleagues have added real value in terms of the content and stewardship that they have provided to our members, a number of whom have independently appointed MD Communications to support their PR needs.  On a personal level, Melissa has been of huge value to me in providing insight to developments within the legal market in numerous international markets and providing advice and guidance on strategic matters
MD Communications quickly grasped the issues in our case. The high-profile coverage they delivered was not only helpful to our existing clients and our development of the case, but also directly contributed to us securing additional client instructions. The issues surrounding our case were often fast moving, but MD Communications were agile and responsive, turning these twists and turns in the news agenda to our advantage.
MD Communications have shared their knowledge and given us step-by-step guidance to produce better submissions for legal directories. They helped me to understand the big picture allowing me to work with our lawyers more efficiently to achieve our strategic goals. I can always turn to them for carefully thought out answers and guidance. I recommend MD Communications for their profound knowledge, great customer service and friendly approach.
The strategic directories audit reports created by MD Communications have been very useful, and we are confident will transform our submissions this year.
Lawyers are not always good at promoting themselves, strangely shy – however good they are. MD Communications can provide the words and style if you give them the material.
Melissa and her team at MD Communications have worked with us to help us develop our PR strategy, and have assisted with our legal marketing since we first opened our office in London. Melissa was helpful in assisting us with public relations and branding and was very much aware of our needs. We are an international law firm who really benefited from MD Communications' experience of working with legal firms and the breadth of their expertise. I have no hesitation in recommending Melissa and her team.
During my time at PKF, MD Communications worked with my new marketing team on a retainer basis following a full tendering process.  The results from this collaboration were significant, with a 26% increase in business enquiries coming through the PKF.com website.  All of this was achieved in under 12 months.
MD Communications is incredibly well connected across the legal media and wider legal marketplace. We can always rely on their clear guidance and insights. We know we have unrivalled specialist expertise; through their PR work and assistance with the legal directories.
The team at MD Communications really understand the legal landscape and the media. I have always valued their advice and their skill in matching our professional expertise and knowledge to the requirements of journalists and the stories that make up the news agenda.
The whole team was very easy to work with and they were always available for further questions and clarifications even out of normal working hours and on very tight schedules. They are very knowledgeable of the whole submissions process and have teamed up greatly both with us in the Business Development Team but also with the partners in each of the areas to get the most out of them. I would definitely recommend them for their deep knowledge, kind follow up and great attention to detail.
Melissa and her team provided extensive knowledge and understanding of our campaign which inspired significant media and political interest. This led to an audience with a government minister, a local MP and interviews on national and regional television. She was incredibly sensitive to the issues which provided reassurance and confidence when dealing with the media. She created a national profile for my firm and my campaign.
What the media say
MD Communications is one of the most media-savvy businesses working in their field. Their expertise in finding the right lawyer for the right publication or briefing shows they have a depth of excellent contacts.
The team at MD Communications knows what journalists want and is skilled at providing knowledgeable commentators at short notice when deadlines are bearing down. Years of experience with the legal profession means the MD team also actively produces valuable ideas and leads in what can be a complex field for reporters.
I have found MD Communications to be a highly professional team, as knowledgeable about their clients as they are about the demands of modern journalism. Above all, though, they are good fun and a pleasure to deal with.
The team at MD Communications has the required instinct to know what is – and is not – a story and understands journalistic imperatives very well. Melissa and her team also understand how to get her clients media coverage, partly because Melissa has such deep and valuable experience of all aspects of the legal media and public affairs scene.
MD Communications, specialising in the legal sector… has already scooped a number of top clients. Davis, who was highly popular both at the Law Society and outside it, is of course brilliantly placed after years of press-handling and dealing with solicitors up and down England and Wales.
MD Communications is a great and well-deserved success.
Latest Blog Posts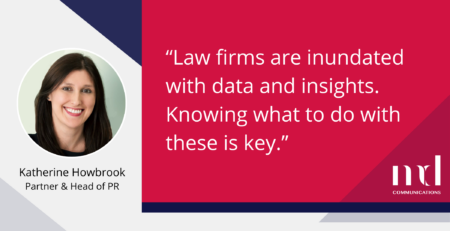 Last month at the IBA annual conference in Paris, Partner and Head of PR Katherine Howbrook took part in the... read more