Listening programmes
Epictetus famously told us that 'we have two ears and one mouth so that we can listen twice as much as we speak'. The ability to actively listen is often the most underrated yet most valuable business tool in our possession.
From understanding what your clients really think of you, improving cross-referral and organic business growth and even defining your brand message the ability to listen should be seen as a key strategic growth driver for any business.
Engaged listening is about listening, reflecting and fully understanding what you are hearing and then using that understanding to guide your marketing and business development activities. As well as giving you direction, engaged listening is at the core to developing strong lasting relationships.
In our experience, there is frequently misalignment between internal and external views on the health of client relationships, the value of a firm to their clients, and how the brand is perceived and experienced by clients and intermediaries.
We engaged MD Communications to lead a client listening programme.  They were great to work with. Very professional and service oriented. The project was well-run, the results were delivered to us in a very useful manner and they provided ongoing dialogue as to how we could use the insights to course correct and spot new opportunities.
We work with firms on a series of listening-based, client relationship programmes.

By truly understanding and uncovering strengths, weaknesses and opportunities within their client relationships, we help firms and individuals adapt their behaviours to better serve their clients' needs and unlock the relationship growth potential.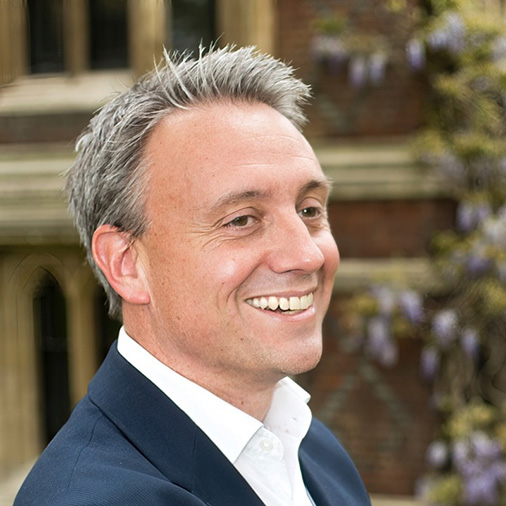 The team at MD Communications bring strategic insight and gravitas. They command real confidence with fee earners, clients and the media alike.
What we do
Undertake internal and external interviews as part of purpose, messaging and rebrand projects.

Undertake internal listening to direct the development of bespoke social media principles and guidelines which drive increased internal engagement with social media.

Support and run key account management programmes with client listening exercises and training.

Develop ongoing client care programmes, incorporating client satisfaction surveys and feedback interview.

Undertake client listening programmes to support wider business development programmes including bids and tenders and legal directories.
Latest on Listening Programmes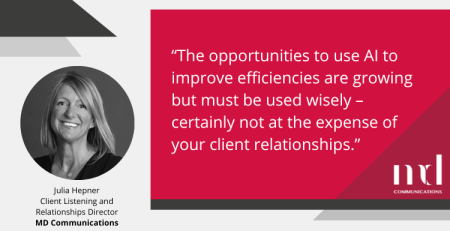 Client Listening and Relationships Director Julia Hepner looks at the use of AI in the legal world, and explains why... read more