Pro Bono
Pro bono work, or using our skills for the greater good, has been a key part of the DNA of MD Communications since Melissa first put her name above the door.
We are the PR partners for In/Fertility in the City
The only podcast for city professionals facing fertility issues, hosted by city professionals who have navigated their own fertility challenges while working.
Over 3.5 million people in the UK are going through some kind of fertility challenge
Over 3.5 million people in the UK are going through some kind of fertility challenge; a third feel their career was damaged due to fertility treatment, and only a quarter report the existence of a supportive workplace policy. We know that the lack of openness around fertility issues in the workplace and the absence of fertility policies are creating barriers to career progression.
MD Communications Partner Katherine Howbrook has experienced first-hand the difficulties of balancing a career while undergoing physically and mentally demanding fertility treatment. We are proud to support In/Fertility in the City in its aims to support professionals going through fertility issues and treatment and create a movement around changing workplace policies and cultures.
We are a founding partner of 'The Positive Parents Alliance'
Along with several big name organisations, 'The Positive Parents Alliance' was launched to better protect the mental health of children, should their parents separate.
Our CEO Melissa Davis was one of the creators of the campaign and both Melissa and MD Communications Partner James Hayhurst, who is chair, sit on the advisory council, which has been three years in the making, after witnessing far too often the damage that bad separation can cause children who are caught in the middle of parental conflict.
A coalition of at least 20 children's mental health charities, separated parenting groups, relationship charities and other invested stakeholders have created 'The Parents Promise' to better protect children affected by family separation.
As an active member of the legal community and having seen the damage that separation can cause we at MD Communications are proud supporters of the Parents Promise which will support and encourage parents who are separating to do this in a way which protects and puts the mental health of their children at the forefront.
We want to change the culture around separation, both within families and in wider society. Within the legal sector, a community Melissa is hugely proud to be a part of, the ask is that we start treating all separating families with much greater compassion and make sure they have access to the support they need instead of being allowed to drift towards a family court system that too often creates division and makes co-parenting impossible.
We want there to be greater adult communication and child-centricity around separation, which includes discussion around how to co-parent after separation, when the parents are still together.
Melissa has signed the promise with her husband James for Jessica. We are asking every parent to make the Parents Promise today. Will you?
Reverse Rett and Skylarks 2021
Our fundraising campaign in 2021 was for two charities: Skylarks, whose mission it is to help children with special needs thrive, and Reverse Rett, which focuses on delivering treatments and, one day, a cure for Rett Syndrome.
Our campaign this year was split into two parts. Part of this was a festive video featuring actress and comedian Sally Phillips (Smack the Pony, Bridget Jones's Diary, Veep and much more) alongside actress Ronni Ancona, as well as a slot from Victoria Macdonald, Channel 4 News health and social affairs editor, on why these charities are so important and asking for your kindness in supporting them.
There were also a raft of faces from across the legal sector including Daniel Winterfeldt MBE QC (Hon), Sharon Blackman OBE, Sean Jones QC, Matt Byrne, Gerard McDermott, with Eduardo Reyes providing the soundtrack. Another video featured Sally and Ronni doing a festive skit.
The second part was a silent auction for a lunch with Matt Byrne, Deputy Editor of the Lawyer, and Eduardo Reyes, Features Editor at the Law Society Gazette.
In total, £7.5k was raised for these two wonderful charities. We'd like to thank everyone who donated so generously.
Lawyers for Net Zero
We're excited that Lawyers for Net Zero, a fantastic new environmental initiative for which we are pro bono PR partners, has launched.
Lawyers for Net Zero works with corporate leaders to enable effective engagement with climate and ESG issues.
Founded by Adam Woodhall to empower in-house lawyers to deliver significant climate action, an impressive roster of counsel are already on board, including Anthony Kenny, Assistant GC Corporate and CBS at GSK, Tamuna Cheishvili, Legal Counsel at Deutsche Bank, Stephanie Beat, Head Of Legal and Compliance at Certas Energy, Daniel G., Senior Legal Counsel at Arup, and Alessandro Galtieri, Deputy General Counsel at Colt Technology Services.
These leading lawyers are exploring how fellow counsel can help their businesses take a lead on climate change and building a better future globally, as part of London Action Climate Week 2021.
The Law Society Gazette has covered the story:
News focus: Lawyers zero in on climate change
'Net zero' network to support in-house lawyers tackle climate change
We are on the advisory board for Only Mums & Dads
Melissa is a member of the advisory group for Only Mums & Dads, which supports parents when separating to put the mental health of their children first and encourages family law firms to be part of the solution.
We were recently proud to help promote their latest 101 guide to separating.
50/50 by 2030
In March 2021 we were incredibly proud to announce we are the pro-bono PR partner for the IBA to get the message out about their gender project to achieve true gender parity in the legal industry.
an ambitious first-of-its-kind, nine-year global project to uncover the root-causes of the lack of gender parity at the most senior levels of the legal profession
The IBA has spearheaded efforts to push the profession forward for many years and this project will finally root out the causes of sexism at the highest levels of the sector and provide a blueprint for change.
To help raise awareness of this important campaign please share the press release, or like/comment on the IBA's LinkedIn post.
Many media outlets have already covered the news, including The Times and The Law Society Gazette and the project is gathering support worldwide.
This is the biggest project in the legal space of its kind ever. It has real capacity to create change and momentum, so your support in sharing the launch of this initiative is wonderful.
Festive Video 2020
In Christmas 2020 we ran a fundraising campaign in support of Reverse Rett and Skylarks Charity. Reverse Rett is a UK medical research charity dedicated to changing the lives of children and adults with Rett Syndrome, and Skylarks is a local charity based in West London which has a vision to create a world where children with special needs can thrive.
At our annual party we normally celebrate with a host of international guests at the Club at The Ivy. But instead for 2020 we put together a video campaign hosted by Eduardo Reyes, Law Society Gazette Features Editor, from his home in Peckham, and Matt Byrne Deputy Editor of The Lawyer magazine, who usually fronts the band, contributing with some brilliant guitar playing.
Thank you to all our contributors to these videos, Moray McLaren, Daniel Goldberg, Joanna Goodman, Stephen Revell, Ekaterina Rozenbaum, Grzegorz E. Woźniak, Felicia Kemi Segun, Denise Laffont, Peter Taylor, Neil Montgomery and Chris Owen, Andrew Mackenzie, Matt Byrne, Christina Blacklaws, Gerald Schachner, Claudia Hong, Peters & Peters Solicitors LLP, Adam Sampson, Gerard McDermott – so many we met through the International Bar Association.
For every 'like' these social media posts received we donated £1 to the two charities, raising a total of over £2,000.
Meet the Media Event 2020
Our last physical event, the Meet the Media panel debate in February 2020, raised over £1,000 for Reverse Rett.
The event was based around four journalists – The Independent's Sean O'Grady, The Lawyer's Matt Byrne, technology and business columnist Joanna Goodman and The Law Society Gazette's Ed Reyes – who brought their century-plus of journalistic experience and the guests' entrance fee went to the charity.
Other Campaigns and Initiatives
We also support many initiatives and charities that help the legal sector to improve the lives of others.
Other organisations we have enjoyed supporting include:
The InterLaw Diversity Forum – founded by Daniel Winterfeldt QC (Hon), its mission is to foster inclusion for all diverse talent working in the legal sector, and to promote meritocracy in all sectors by working to 'level the playing field' in order to create environments where the best talent can succeed.
The Deaf Law Centre – now sadly closed, this worked to ensure justice and equal access to the law and legal services through advice, representation, education and training for deaf people.
Westminster Foundation for Democracy – the UK public body dedicated to supporting democracy around the world. WFD works with parliaments, political parties, and civil society groups as well as on elections to help make countries' political systems fairer and more inclusive, accountable and transparent.
Legal Charities Garden Party – a yearly event (until recently), with the first Garden party held in Gray's Inn on 6 June 1968, which raises funds for charities which provide financial support for lawyers (and their dependents) who find themselves in need.
London Legal Walk – the main event held yearly by the London Legal Support Trust, an independent charity that raises funds for free legal advice services in London and the South East. In 2019, 15,000 people walked through London raising money to support pro bono and advice agencies.
SEND Kids – we also work with SEND Kids who are working with the legal sector to help improve the chances of families of Special Educational Needs children get the financial support that they are entitled to more quickly.
Latest Blog Posts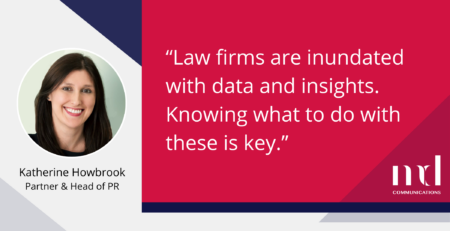 Last month at the IBA annual conference in Paris, Partner and Head of PR Katherine Howbrook took part in the...